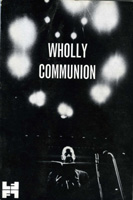 Wholly Communion -the film by Peter Whitehead - Intro by Alexis Lykiard - Lorrimer Films Ltd - 1965

INTRODUCTION

The Poetry Reading which packed the Albert Hall, London, on the sunny summer evening of June 11th, 1965, if not quite the hoped-for Blakean jamboree and feast of illumination, was in many ways an undoubted success — the first genuine, large-scale Happening. 7,000 people thronged the Hall for four hours of poetry. More were turned away. These are remarkable truths. The ' Times Literary Supplement', in a controversial leader (17.6.65), declared that the gathering, organised in a week by New Zealander John Esam, Dan and Jill Richter, and the Poets' Co-operative,' made literary history by a combination of flair, courage, and seized opportunities '. The spontaneity and novelty of the occasion may have been partly responsible for the size of the — mostly young, and by no means all-Beat — audience, and also for some of the dreary or uneven passages, yet on the whole those who were there would probably agree with the TLS verdict, rather than approve the alleged comments of the Albert Hall's manager, ' I don't want that sort of filth here. Would you send your teenage daughter to hear that sort of thing? '

His sad, outraged, rhetorical question needs no answer. The fact, however, that uneasy attendants and police hovered at entrances, deprecating drugs and fourletter words, and that the Press gleefully reported subsequent quibbles over profits, should not obscure the evening's important issues and merits. Despite a few inaudible or erratic poems, the general excitement of the Reading, and its real rewards, must surely have banished the petty carpings of critics and bureaucrats.

Above all, the Reading demonstrated that poetry should and could stir people. Living words, provided they are honest and direct, can communicate with IMPACT. No academic solemnity, no fake-Bardic stances, no joyless artificial stanzas! Postwar American poetry, in particular, has tried to reassert the primacy of the spoken word in the poem. Poems should leap, via voices, off the page. . . . At the Albert Hall both public and private poems were read, provoking violently mixed reactions.

No one knew what to expect: during the course of the evening flowers were distributed; weird papier-mache creatures strolled about the aisles; Bruce Lacey's machine structures buzzed, shook, and flashed; the dry eerie voice of Burroughs crackled from a tape-recorder; Davy Graham played the guitar; poets and hecklers interrupted each other; and a girl in a white dress danced under the pall of potsmoke with distant gestures of dream. And the last sight of Alien Ginsberg was one to cherish as, singing to his finger-cymbals, and shuffling like a wild-haired bear among the flowers hurled at him, he was surrounded by, and finally disappeared in, a mass of foliage-waving enthusiasts.

No wonder Alexander Trocchi who 'compered the pro­ceedings with schoolmasterly firmness ' (' New Statesman ') had, minutes before, quietly wound things up. He'd done a difficult job well: the personalities and styles of the poets were all remarkably different. Ferlinghetti and Mitchell read impassioned ' political ' poems making witty/dramatic use of refrains and almost liturgical repetition; Corso read an intimate long poem, purposely low-key, and Logue, black-garbed and husky-voiced, a version from Sophocles; and Harry Fainlight, constantly heckled, persevered bravely with his LSD nightmares and visions. But one of the most impres­sive moments was when the Austrian Ernst Jandl read and the audience successively turned football crowd, Boy Scout rally, and wolfpack. . . . As his sound-poems rose to a crescendo, a rhythmic furore aided and abetted by the claps and cries of the crowd, so, suddenly, the destruction of words and their conversion to a shouted, half-hysterical series of sounds, seemed sinister — took on a Hitlerian aspect: the Hall became almost a Babel. It was perhaps the most extra­ordinary event of the evening: parody and warning, cacophony with its own logic, rational collapse of reason, and despair of communication communicating itself. Artaud, who understood the sanity of madness, would have relished it.

And lastly there was Allen Ginsberg, one of the best living poets, who had given some brilliant readings at the ICA and elsewhere during his London stay, greeted with jeers from a flagging and word-weary minority. The Hall's vastness, however, didn't diminish Ginsberg's impressive, prophetic presence, nor damp his sense of humour, and he read, unperturbed, to the end.

Maybe there should have been fewer poets, for at times the processions to the microphone only preceded anticlimax. But it was disappointing to see Voznesensky, John Arden and others in the audience who either didn't feel like, or get the chance of, reading. And Nobel-winner Neruda was expected but didn't arrive. All this said, the occasion was and will probably remain, unique. That'd be a pity, for the Reading stirred up considerable emotion, enraging, stimulating, amusing and entertaining (at democratic prices too!) what must have been the largest audience ever assembled to hear poetry in this country.

At best the poets conveyed honesty and directness, a lack of self-consciousness and a drive towards self-knowledge. They showed their hatred of the narrow mind and heart, and joined in celebration of God-as-total-consciousness. They may have faltered or shocked; the audience may have mis­understood them; but certainly the varied efforts of poet and audience to join one another in a communion of the Word will not soon be forgotten by those who were present.

Alexis Lykiard

The following poets also took part in the Reading: John Esam, Pete Brown, Anselm Hollo, George Macbeth, Simon Vinkenoog, Paulo Leonni, Daniel Richter, Spike Hawkins and Tom McGrath.
---
Low Angles and High Seriousness
1.
A sound poetic training is no more than the science of being dissatisfied. Ezra Pound
I kept several diaries during the mid-1960s, but had never reread them until recently. With newfound millennial hindsight, I saw that some of the entries traced various recurrent preoccupations of mine. In particular, I'd been trying to describe the private and public faces of poetry: the strengths and weaknesses of poetry in performance, and the manifold difficulties of accurately chronicling, recording, filming, or even simply hearing, poets in action. Spectators and participants have generally become more exacting, more blasé and wordweary, since those days. Too many audiences – confused, numbed, disappointed – duly melted away over the years. Too many prosy poseurs and vapid versifiers have intervened, intoning, mumbling or ranting for far too long, congratulating themselves as they bored or exasperated even their own supporters and colleagues. In our dumbed-down era of media-dominated, ever increasing hype and relentless showmanship, intelligent content or individual style are no longer enough to engage, let alone stimulate, a sizeable audience.
So perhaps it's time to cast a cold eye upon what remains the largest poetry reading ever to take place in this country. A book and a film recorded the occasion, but both of these were inevitably partial: with the passing years and fading memories, many facts are still being misrepresented or misremembered. Some background data, together with more personal comment and further information about the extraordinary Albert Hall Reading of 11 June 1965, I can now provide. My own involvement with the proceedings had begun slightly earlier, my diaries remind me:
Sneaked into the last 1/2 of the Allen Ginsberg reading at Better Books. Expected faces were there. Ginsberg was great. Was not prepared for his k.o. personality, humour, & visionary, swinging poetry. There's no doubt he is a very, very good poet, working on a high voltage. Mystic chants with tiny tinkling finger cymbals, incantatory obscenities, joyous groans, grunts of anguish, beautiful rhythms of the ghetto born again in USA boptalk… This balding bearded, wild prophetic creature, eyes shining through squarish spectacles, has a touch of creative genius. He loves mankind, however crazy, because he himself is determined to be crazier, the craziest lover of all… Everyone held, hypnotic – one can see that Ginsberg-style without Ginsberg wd be travesty – that his disciples don't realise, they become banal/boring/2ndhand – which Ginsberg isn't: he's a creator & pioneer. Heir to Blake & Whitman, & of their visionary number, maybe… [London, 19 May '65]
A bit over the top possibly, but I was twentyfive and relieved to have completed Zones, a very long, experimental, un-English second novel: I was inclined to be receptive to certain poets who seemed to me genuine, fresh transatlantic voices – the big Beat sound beginning to surge irresistibly against Little England's cautious, ever conservative shores. Anyhow, a fortnight later, I noted: I've managed to hear Ginsberg again (with Peter Whitehead, who was quite impressed!) but this was something of an understatement.
That reading proved just as exciting as the previous one. Peter Whitehead, an undergraduate acquaintance from Cambridge days whom I'd persuaded to attend, was instantly sold on Ginsberg. It was the first time Whitehead had either heard of, or heard, the American poet and he was clearly fascinated by both persona and performance. When I mentioned that a huge London reading would be taking place soon, featuring Ginsberg plus starry international cast-list, Whitehead (who'd abandoned natural sciences in order to paint and study film at the Slade) eagerly agreed that here was the opportunity he'd been looking for. Such an unusual verbal occasion could prove, if Ginsberg was anything to go by, a visually extraordinary evening too. And as a short film project – a documentary relatively straightforward to shoot with limited means and equipment – this forthcoming event sounded ideal.
2.
Art should concern the life of everyday. All should be exalted by it. It should be the eucharistic bread and the eucharistic wine. Have a holy communion with art, you who are blind, you who are deaf, you whose souls are numb with solitude and despair. Ernest Walsh, 1920s poet-editor, as reported by Emanuel Carnevali
… Historic occasion – Ginsberg, Corso, Ferlinghetti, Trocchi, Logue etc. Lots of dross […] but some great & unexpected moments of crowd contact & near-riot – flowers & paper darts strewn during & after. Several intervals, it finally ending with Ginsberg drunk, Trocchi giving up compèring, AG playing finger-cymbals, singing, dancing, surrounded by scrum of potsmoking ravers throwing flowers! Interruptions all way thru – esp. during Harry Fainlight's (bad) junkpoems which he wouldn't stop reading. And w/Ginsberg's (this was rather surprising). A rave over sound-poems by Austrian poet Ernst Jandl. […] Wanted playwrights John Arden & Michael Hastings to have read (both in audience). And Pablo Neruda didn't turn up! Typical of this dismal country that cheap propaganda poems on Vietnam got biggest applause while Ginsberg, a true visionary, got howled at. But how curious & wonderful to see the Albert Hall of all places, sold out for a poetfest – people even turned away - & such an exciting, varied evening – so many old friends there – & P Whitehead filming (hope it turns out well – he got all the great moments caught) – Of course, I gave him the idea of filming it in 1st place, also of taking him along to hear Ginsberg at the ICA – which filled him with enthusiasm to start with! Long to see how it turns out, as the evening was such a rave…
A few days after the above entry, the diary situates Whitehead and myself in the audience at Better Bookz, along with Ferlinghetti, Bob Cobbing and others, viewing several experimental films – then still banned or without BBFC certificates – directed by Kenneth Anger. Then (26-27th June): Worked on the Albert Hall film with Peter – shot opening sequences by the Memorial – edited parts of it with him… Corso and Ginsberg saw the rushes at his flat & were knocked out! AG wanted a private copy of his readings & Corso too was thrilled & just like a little boy… There'd been much discussion about (at least) a working title, and my somewhat flippant suggestion was adopted early on. I soon had second thoughts, according to the 27-29th entry: Further work on the film – Wholly Communion – I don't like the title, but I suppose it wd. work, even if it annoys people – catchily blasphemous? Credits & main title now done – lots of my ideas here!
Yet there was almost too much happening, too much to focus on. Diary entry for 3rd July: Peter Whitehead has an idea of going to Spain to film a short documentary on the life/poetry of Lorca – M's godfather, a millionaire, wd put us all up (in luxury) in his villa nr Granada for as long as it took to film. So all we need to clinch things is get the Albert Hall film finished quickly & try & raise money equally quickly – thought of Spain & sun & sea & pot and a rest is very attractive right now… Such pleasingly grandiose dreams about additional filmed poetry lasted only until 20th July however: Lorca project now abandoned/postponed – too little time to raise money – & it's better to try & concentrate on making a good job of the Albert Hall one, i.e. with better sound from the master tape.
Heard that Ferlinghetti very much liked the Albert Hall film, I wrote on 11th August, adding: All the poets seem to. Good. But my own poetry seemed to have stalled that summer; I was encountering rejection and indifference from those supposedly prestigious and established magazines I stubbornly continued to send work to. It took a rather reclusive poet, one arguably finer than any reader at the Albert Hall (and on a far quieter, more intimate, lowkey occasion), to restore my self-confidence and faith in the art of poetry and the power of the spoken word.
Basil Bunting reading at Better Bkz. (14th Sept). An odd-looking man – kindly, moustached, receding grey hair & thick glasses – who reads his tremendous poetry superbly – incantatory, heavily sound-patterned style that suits the words themselves. Was proud to have been there & have him sign a copy of The Spoils for me, as I feel that recognition must come his way soon, tho he doesn't give a damn about it. He may be a great poet – certainly he makes all our petty academicians & prosers seem silly – not poets but admen, which is all they are! A wonderful reading, full of the music of poetry – & I doubt that Pound, Yeats, WCWilliams were wrong about BB: he is impressive.
My enthusiasm must have kept me going: it wasn't until 13th November 1965 that I completed my Introduction to the paperback 'Book of the Film'(!) of Wholly Communion. There will be stills from Peter's film, a good selection of the best texts (incl. new poems by Corso, Ginsberg &c) and perhaps a selection of reviews/press articles. My Intro. tries to set the scene without making too many literary judgements, as some of the poets, notably Harry Fainlight, are already being difficult & paranoid! Still, within its limits, the book sounds as tho it will be good when it comes out – before Xmas is projected, tho I somewhat doubt this! (We spoke to Blond, and Tony Richardson of Penguin Bks – who were interested in the idea but cdn't act quick enough so there can be a film tie-in. So probably an ad hoc publication is best.) By the 18th: Film bk now all set & off to printers. Sebastian Carter giving us lay-out advice. It shd definitely be out before Xmas to tie in with the film – which will be shown with [Godard's] Alphaville @ the Academy.
Nothing was to be plain sailing, however. On 8th December, I lamented the various delays in my projects – ie, Albert Hall bk delayed by uncooperative printers baulking at 4letter words at the 11th hour! But P.W. has found others. So the book as well as the film will be delayed until the N. Year. Indeed, it was 4th January 1966 when I saw proofs for Wholly Communion book: they look great – the photos & type are much better than I thought they'd be. P.W.'s now putting the final touches to the film & both shd be ready at the end of this month. On the12th January I noted it'll probably sell for 8/6, a fair price considering the quality & standard of print & paper & photo repros. Both bk & film shd be on view at start of February. Finally, on 12th May, almost a year after the event we'd recorded, I went to see Peter's film at last at the Academy, with Bellocchio's extraordinary/tragic Fists in the pocket. 2nd edition of W. Communion is out – handsome & glossy.
3.
This is the tragedy of all critics: they see faults instead of art. For the critic, seeing art consists of marking all the faults in red ink and writing comments underneath.
Kurt Schwitters
So much for the course of filming, editing and publication; process, chronicle, recorded fact. That unique Albert Hall reading was very variously perceived even at the time, of course – wildly and widely reported, celebrated and criticised – and it's since been mythologised as a kind of literary landmark of the Sixties. These days the film itself is harder to get hold of, though I believe a video version is available. The three different editions of the book that I know of have become collector's items. Nevertheless, there seems little point in recapitulating or repeating what I wrote in its original Introduction. Besides, who could so belatedly recapture the sheer mayhem and excitement of that long-gone summer night which now appears so aptly, chronologically, central to a decade itself seen as eccentric? Perhaps one can only discern in passing (and with all the licensed folly of hindsight) some additional links and liaisons between the living and the dead. Hence I've tried next to round up here – to re-collect – a selection of the responses to the event. This in order to tie up some loose ends and to list, not lose, a few more of the evening's public repercussions and personal reminiscences, before all of us, participants and onlookers alike, inevitably fade…
The Guardian review of what was described as "last year's poetry jamboree which deployed a considerable section of the police at the Royal Albert Hall" complained that "the camera-work is somewhat self-conscious and it is seldom agreeable to have your eyes riveted when your ears want to concentrate", though conceding that "the film captures well the atmosphere of an unusual event". But it was remarkable enough – after borrowing cash, getting hold of less than an hour of monochrome stock, and having to use a single hired camera with only a zoom facility – that Whitehead ended up with a final cut of just over half an hour. As he explained in one interview: "There was just me and a camera. It had no light meter, I couldn't hear much of the poetry and the camera jammed." When the National Film Finance Corporation and Contemporary Films saw the 16mm print they were duly impressed and put up £1000 to have it blown up to 35mm. The original soundtrack had to be abandoned, but there existed a BBC sound recording which was then successfully re-edited to fit the film.
"A title that nearly had censor-trouble" the Daily Express noted breathlessly, when interviewing Peter Whitehead about what it called "that celebrated and often rowdy beat-poetry meeting…last June". By then details of the event and those concerned with it, even the closest, most obvious ones, were already becoming blurred, if not glaringly exaggerated. The filmmaker himself, for example, had turned into "a tall, diffident, 28-year old embryo novelist", when he was and I expect still is, a short, loquacious and endlessly logorrhoeic proser.
But let's glance a while at what was then called the 'egghead' press. "Nine months ago 6,000 people filled the Albert Hall and listened for four hours to a poetry reading", began the Times Literary Supplement Editorial for February 24, 1966. It continued in typically patronising fashion: "At the time we hoped that such an impetus towards an audience for poetry would not be lost, and we recommended that such large-scale readings should be tried again." However, although "the Albert Hall effort has at least produced one offspring – a booklet entitled Wholly Communion" that, in the TLS's grandest first person plural opinion, "only confirms our memory of how bad most of the actual poetry was – very little of it survives translation from the poets' corrida to indifferent offset-litho". Regrettably the TLS comments were criticising the hasty December 1965 edition rather than the augmented, improved April 1966 one, but at least the significance of the occasion itself could scarcely be ignored. Yet the basic facts and figures of the occasion, as well as opinions about its quality if not its importance, have continued to differ.
Almost exactly 30 years later The Guardian harked back to "an international poetry event dubbed 'Wholly Communion'" when "more than 8,000 people turned up". Somewhat nearer the actual event, in 1971, the sound-poet Bob Cobbing had written of "an audience of 6,000 at the International Poetry Incarnation at the Albert Hall", while in his 1999 autobiography Prince Charming, one of the participants, Christopher Logue, estimated: "Between seven and eight thousand people had come. Photographs show the hall full." It might well have been even fuller, according to the film and literary critic Raymond Durgnat,"had the management not deliberately turned away latecomers, under the pretence, which it must have known to be false, that no seats remained" (Films & Filming, June 1966). Fear of four-letter words and rowdyism, reckoned Durgnat, who also remarked that "the Establishment's hostility is a backhanded compliment, and the event is for poetry what the success of Look Back In Anger was for the modern English theatre."
As recently as 2001 a much younger commentator, Gary Valentine Lachman – in Turn Off Your Mind, his often perceptive, generally iconoclastic analysis of what might be termed OM, or 1960s Occultural Mystique – could solemnly pronounce that "it was the London underground's crowning event, the poetry marathon known as Wholly Communion." Other iconoclasts – The Guardian Weekend's 'Biff' duo, in one irreverent 1996 strip – rather more cheerfully lampooned an earnest poetaster at the newly opened Poetry Café : "I haven't seen so many bards in one place since Wholly Communion."
Reviewing "an amusing film", the Daily Telegraph complained in 1966: "None of the poets except possibly Allen Ginsberg and Adrian Mitchell survives the filming with much distinction". Yet while propounding the strange aesthetic notion that "much of the poetry was clearly written to be seen and not heard", the critic still agrees "it was obviously quite a night". Indeed, as Logue, now in his mid-seventies, so justly appreciates: "Time makes short work of bad verse. Literary standards were not high that day. It did not matter. It was the moment that spoke."
Certainly it seemed the right moment for poetry to regain its music, its humour and its edge – to become in fact less obscure and more accessible. The right historical moment also for poets to become public entertainers and performance-artists once again, engaging more directly with the issues of their time and with their audiences. As Durgnat presciently acknowledged: "The new wave of 'beatnik' poets, however eccentric and way-out, and their contemporaries, at least represent a coming-together of the poetry medium and some popular attitudes. It's no accident that through such figures as Donovan, Bob Dylan and Joan Baez, this kind of poetry is beginning to link up with 'pop' music; and some highly profitable cultural collisions and mixings seem imminent." Durgnat was underlining what an even shrewder chronicler of the Sixties – Kenneth Tynan, then film critic of The Observer – had written a couple of months earlier: "This palatial party (which I attended) demonstrated that vernacular poetry can attract the same people who flock to Bob Dylan's concerts."
"Palatial party" was spot on: appropriately too, there were quite a few musicians around, guitarists and folk singer-songwriters like Davy Graham and Julie Felix, as well as jazz people and the interpreters of what was then termed 'Concrete Poetry'. Bruce Lacey's strange machines were whizzing, buzzing and crackling all over the place, and the taped voice of William Burroughs, dry and sardonic as ever, let us know he was present at least in spirit. Other controversial or iconic presences, on the scene and in the film, were as striking and enigmatic through their very stillness and silence – Dom Sylvester Houedard, Andrei Voznesensky… R.D. Laing was there too on the night, along with some of his patients: who knows how the latter group reacted? This highly entertaining wordfest resembled, as did the Sixties generally for me and my friends, a mad whirl in an even madder world.
Kenneth Tynan comments on "Ginsberg, beatifically stoned, intoning Tibetan chants; and the agony of Harry Fainlight, his mouth drying up as the customers barrack", and notices how "the English poets sound less self-absorbed, more precise and political". Tynan's final sentence and verdict is that "The film fairly records a partly embarrassing, partly inspiriting occasion". Durgnat, who thought it "an admirable demonstration of 'performed poetry'", concludes by extolling "the fascinations of a film which pulverizes previous essays at filming poetry (notably the BFI's cretinous Poet and Painter series) and records the first big eruption of the too-long-quiescent poetic volcano."
For my part I find that the Age of Aquarius, and now the New Millennium, have dawned rather disappointingly, if not anti-climactically; on entering my own sixties I view with some scepticism the facile tendency to mythologize the Sixties as a whole. The decade was neither especially decadent nor especially creative, yet numerous taboos were broken and Anglophone society, at least, did demonstrably change. There seemed more of everything: more music, more drugs, more wouldbe artists wanting their Warholian fifteen minutes of fame. And so along came more entrepreneurs – individuals and co-operatives, hustlers and idealists – all opening up bigger, better or different outlets and greater opportunities for performers and poseurs alike. Availability, openness, excess…
But what's available may only prove to be average: wide-openness in the guise of all-embracing democratic acceptance can't magically ensure liberation. As for excessive freedom, it can too often melt the will, inviting doubletalk and sloppiness – devaluing or disregarding a proper, justly critical spirit. Poetically deranging one's senses by any means necessary, or opting for whatever seemed a vaguely individual interpretation of Blakean excess, meant lives misled and books misread, dreamcatchers gone awry. The disasters courted and risks taken were all in the game, and many came to grief: we were aware of waste too, of talent squandered, casualties and disappearances ahead, suicidal energies. It was a summer night when one sensed how catastrophe might be lurking anywhere around that enormous arena. However, if to communicate is difficult, to illuminate is more so: for all the callow frailty and raw egoism on display, there were flickers of genuine sensitivity and inspiration, and a good deal of jovial robustness too.
People in that audience took themselves and poetry seriously, yet many of them came for fun as well as from tribal feeling. Despite a few bright sparks who frolicked with determined exhibitionist glee, such amusing distractions and frivolity never quite vanquished quality. It was clear from the outset however, that a quieter delivery, an understated rather than rhetorical approach would prove, within that daunting auditorium, problematic or at best elusive. Nevertheless, new viewers of the film may still cherish some surprisingly intimate moments and explore a variety of small details. These days – looking back at images, hearing words again, rereading things I and others wrote so many years ago – it's inevitably the rough edges and faults I notice, although too, occasional happy accidents are recalled or revealed.
Even then, of course, there were intimations of mortality: by 2002 the film resembles a veritable rollcall of the missing. Watching it again, one laments some of the lost, the undervalued authors of the era: if only, for instance, Alex Trocchi had lived longer and written more… But what finally lingers in my memory (and will perhaps, till time blows us all away), is the uproarious humour, the euphoria that accompanied a unique evening. We were reminded how language itself need not always be solemn or obscure but can be restored to health and to people, regaining its rightful, vital role among them. How each individual's wordmusic – the poetry within them – might celebrate, often playfully, certain timeless values, bringing pleasure to anyone with ears to hear. And so it seemed entirely appropriate – the mirthful spontaneity of that sneeze-piece by Schwitters and those gales of laughter greeting its explosively joyous conclusion!
However much or little one enjoyed the actual night, Wholly Communion both as book and award-winning film, could be deemed a critical and commercial success.
The essence of the evening had been preserved and some terrific images and words transferred to celluloid. But as far as I know, none of those who appeared in or worked on Wholly Communion received any payment for their contributions to either book or film.
(None, I've since heard, other than the admirably persistent Michael Horovitz – Albionic man and poetry-impresario emeritus – still sane after all these years!) As for myself, I did once catch sight of a single copy of the subsequent US edition, published by Grove Press. That transatlantic incarnation of an ultimately elusive book seemed, at least where UK contributors were concerned, something of a chimera or wellkept secret. Yet all of us Sixties survivors and still practising poets would doubtless continue to accept that poetry is a spiritual, unmercenary art. In those younger days we largely did things, pace Robert Creeley, For Love.
Be that as it may, soon afterwards Peter Whitehead – via his new company, Lorrimer – launched a dual book-and-film career, lucratively publishing other people's classic filmscripts and directing his own less classic ones. The latter were increasingly ambitious, larger-scale features that, despite full colour and increased running time and budgets, adhered to documentary-style dogma and cinéma vérité indulgence. None was ever as concise, witty or enjoyable as Wholly Communion…
Thereafter the genuinely innovative Lorrimer Books imprint would be run by writer-director Andrew Sinclair, eventually becoming an established part of the Faber empire. Evidently Peter Whitehead had also lost any further interest in cinema and, following a dubious star-turn at the trial of his former friend – the international drug-smuggler Howard Marks – he next turned his talents to falconry. Whitehead proceeded to breed the birds and practise this ancient sport alongside assorted Saudi royals. On his return to the UK, he espoused an heiress, and now surfaces from rural seclusion only to self-publish more of his tortuous pseudo-mystical novels and rambling reminiscences.
Highflyers or not, everyone came a long way from that crazed and extraordinary night at the Albert Hall; the poets who remain (and remain poets) are fewer, greyer now. Meanwhile the whirligig of time brings in its revenges, its ironies too. The falcon-mad Whitehead has himself been the subject of a recent but well-nigh unwatchable piece of TV docufiction. This confused and confusing cinematic patchwork – a very unpoetic piece about a wayward, highly exasperating character – was made by a pair of rarer and rather more substantial talents, writers Chris Petit and Iain Sinclair.
I've no doubt that both the latter will continue to produce superior work in their various chosen fields. It's unlikely, though, that Whitehead (or anybody else currently looking through a lens) will again be presented with another such great opportunity: to capture for posterity a similarly large-scale, poetico-political event. Seize the time! urged Black Panther Bobby Seale's book and – for the most part ruthlessly, forgettably and uncreatively – whitey did. But whichever way you look at it, Wholly Communion remains Peter Lorrimer Whitehead's finest half-hour.
–––
TÊTE-BLANCHE, BÊTE NOIRE
Peter Whitehead (1937 -2019)
A few Obituary verses must suffice:
Plausible rogues, and handsome cheats hardly deserve much space,
Nor does a fluent charlatan with morals nowhere nice.
"No art to find the mind's construction in the face"
Run Shakespeare's words of warning, putting men to shame.
My artful subject made no art that's worth the name,
Yet left a trail of damage, past all praise or blame.